NSAR – Search and Rescue, community resilience
Project overview
The Nunavut Search and Rescue Project
Projet de recherche et de sauvetage au Nunavut (NSAR)
Ukkua Nunavumi Kinniktiit Havagiyaat
ᓄᓇᕗᑦ ᕿᓂᖅᑎᓄᑦ ᐱᓕᕆᐊᒃᓴᐃᑦ
The aim of the project is to strengthen the whole-of-society search-and-rescue (SAR) system in the Canadian Arctic territory of Nunavut through capacity and skill building, and by creating a decision support model for current and future planning, preparation, and infrastructure development.
Project location
Nunavut (SAR roundtables in Cambridge Bay, Rankin Inlet, and Iqaluit; field work in Gjoa Haven, Cambridge Bay, and Kugluktuk)
Project images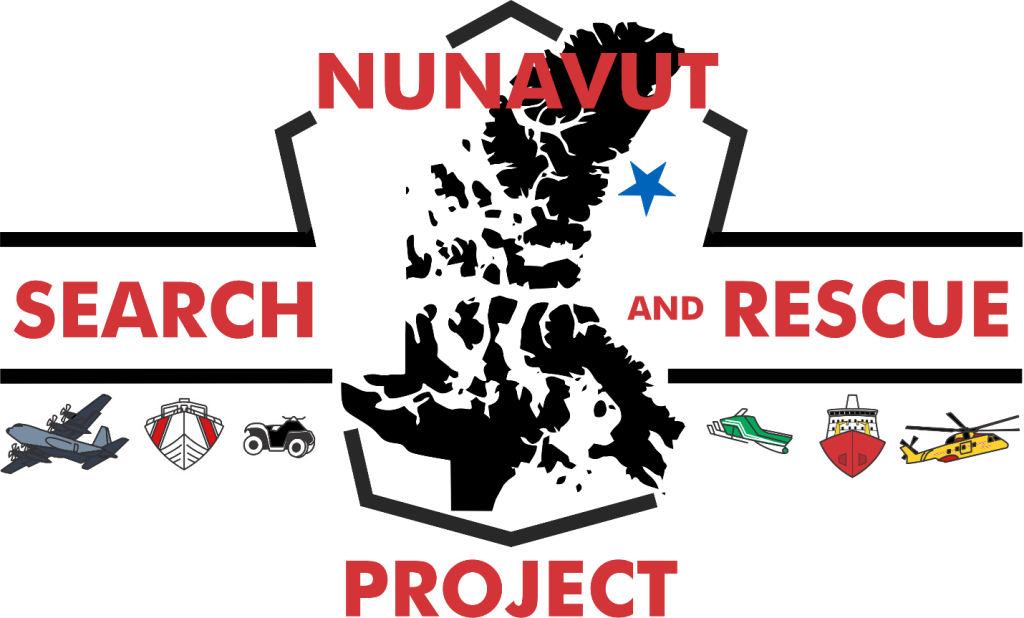 Summary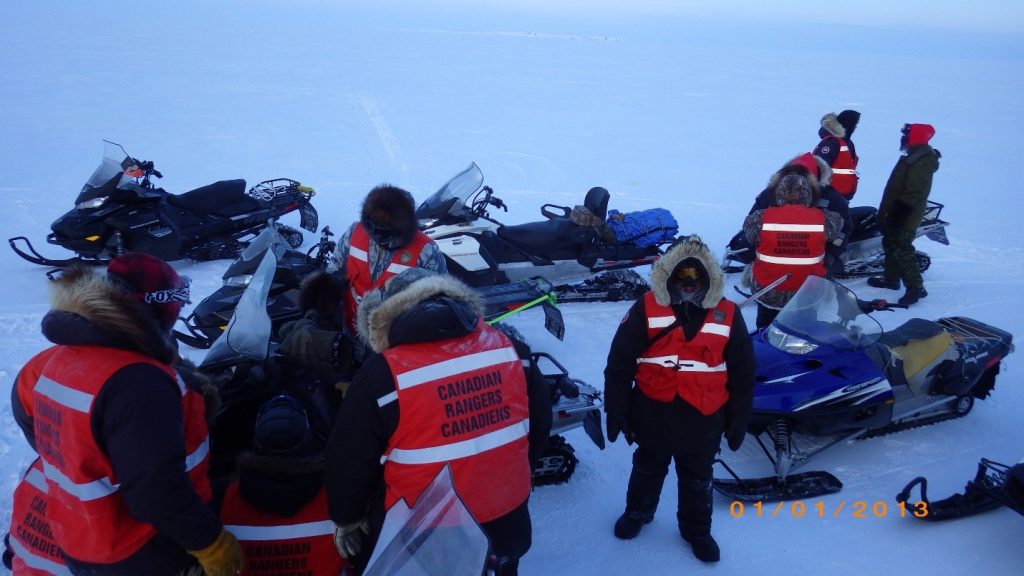 In Nunavut, community search and rescue (SAR) responders undertake a challenging task: providing 24/7 response capabilities in an austere and changing environment with a heavy case load, few resources, and limited external assistance. The safety net they provide allows Nunavummiut to live, travel, harvest, and work on the land, contributing to individual and community heath and well-being.
The NSAR Project aims to strengthen SAR preparedness, prevention, and response through knowledge creation and capacity building, while developing a decision support model to assist community, territorial, federal, and Inuit organizations in conducting SAR planning and human/physical infrastructure development grounded in Inuit Qaujimajatuqangit.
The NSAR Project will build on four pillars:
• Piliriqatigiingniq and Aajiiqatigiinniq: roundtables to strengthen relationships between community, territorial, and federal practitioners to build consensus on improving SAR.
• Pilimmaksarniq: research and development of the practical knowledge and skills required for the execution of community-based SAR operations.
• Maligait and the SAR System Model: creation of a comprehensive model to facilitate SAR planning and preparation.
• Qanuqtuurniq: development of an adaptable framework for ongoing innovation and improvement in SAR.
The NSAR Project will strengthen relationships, facilitate knowledge creation, develop skills, identify required infrastructure, and enable innovative planning and preparation to support Inuit as the first responders in Arctic SAR.
Au Nunavut, les intervenants communautaires en R et S entreprennent une tâche difficile : fournir des capacités d'intervention 24 heures sur 24, 7 jours sur 7, dans un environnement austère et changeant, avec une lourde charge de travail, peu de ressources et une aide extérieure limitée. Le filet de sécurité qu'ils fournissent permet aux Nunavummiuts de vivre, de voyager, de récolter et de travailler sur la terre, contribuant ainsi à la santé et au bien-être des individus et des communautés.
Le projet NSAR vise à renforcer la préparation, la prévention et l'intervention en matière de R et S par la création de connaissances et le renforcement des capacités, tout en élaborant un modèle de soutien à la décision pour aider les organisations communautaires, territoriales, fédérales et inuites à effectuer la planification en R et S et le développement de l'infrastructure humaine/physique fondée sur l'Inuit Qaujimajatuqangit.
Le projet NSAR s'articulera en quatre piliers :
• Piliriqatigiingniq et Aajiiqatigiinniq : tables rondes visant à renforcer les relations entre les praticiens communautaires, territoriaux et fédéraux afin d'établir un consensus sur l'amélioration de la R et S.
• Pilimmaksarniq : recherche et développement des connaissances et compétences pratiques nécessaires à l'exécution d'opérations de R et S communautaires.
• Maligait et le modèle de système de R et S : création d'un modèle complet pour faciliter la planification et la préparation des opérations de R et S.
• Qanuqtuurniq : élaboration d'un cadre adaptable pour l'innovation et l'amélioration continues en R et S.
Le projet NSAR renforcera les relations, facilitera la création de connaissances, développera les compétences, identifiera l'infrastructure requise et permettra une planification et une préparation novatrices pour soutenir les Inuits en tant que premiers intervenants en R et S dans l'Arctique.
Tahamani Nunavumi, Nunaliitni Kinniktiit (SAR-kut) kinnikhiayiiuyut arhuuknaktumik havaakakpaktot: upalungairhimainarhutik 24-nik ikakninik 7-nik ublut tamaat hatiomainaktot tamaaktokagangat, 365-nik ublunik ataohikmi ukkiumi tahamani ayurhaknaktomi kilaminoaklu hila alanguhakataktomi nunami. Hamna kayangnagaluaktitlugo hapkua kinniktiit hatkiumainaktot tatva taimatot hapkua Nunavumiut innutiagiangita munagivlugit, aullakatagiangita, tatvalo havakatagiangita nunainakmi, ikayokatagiangita nunakatimingnik ikpingnarhivaliatitlugo hilaap alangukpalianinga, tatvalo taimatot ikayotaovaliangmingmat inuknun nunaliitnun anniaktailitjutaitnik uvalu innutiakutirhaitnik. Kangahaak naunaiyaiyut, kihiani, naunaiyaihimaliktot amihuyunik ayurhautigivagaitnik hapkua nunaliitni SAR-kut kinnirhiayokagangat hikkumi, imakmi nunamilu tahamani Nunavumi nunaitni. Hivuniktaovlutik hapkunanga Inuinait kinniktiuyuniit, ukkua Nunavumi Kinniktiit SAR-kut Havagiyat (2022-2025) tunnirhimayut ihuarhakpaliayumavlogit hapkua ayurhaotaokataktot pivaligahuaklogit hapkua SAR-kut hannaiyaotait, tammaktailitjutirhat, tatvalo kinnigiakakat kiutjutirhait tahamani avikturhimayoni. Taimaitniakat, tatva havakatigiyagiakaktavut hapkua nunaliit tatvalo kavamatkuni kinniktiuyut iliitkugivaligahuaklogit hapkuninga:
·       Kinniktiit SAR-kut hakkugingningit ayurhaotigikataktaitniklu
·       Kinniktiit SAR-kut nakunirhauyot aturhimayait tatvalu illiitkugivaliotigiyait
·       Hivunirhami piyagiakaktait havarhat hapkua Kinniktiit SAR-kut
·       Ihuarhitjutikhait tatvalo notanik uktoktarhait
·       Pikutaitnun ihoakutikhait ihagiagiyaoyut
ᓄᓇᕗᒻᒥ, ᓄᓇᓕᒥ ᖃᐅᔨᓴᖅᑎᑦ (SAR) ᑭᐅᔨᔩᑦ ᑲᒪᓲᑦ ᐊᒃᓱᕈᕐᓇᖅᑐᓂᒃ ᐱᓕᕆᐊᒃᓴᓂᒃ: ᐱᔨᑦᑎᕋᖅᑐᑦ 24/7 ᐅᓪᓗᑕᒫᑦ ᑭᐅᓪᓗᑎᒃ  ᐱᔪᓐᓇᕐᓂᖏᓐᓄᑦ, 365 ᐅᓪᓗᐃᑦ ᐅᑭᐅᒥ ᐊᑲᐅᙱᑦᑐᒥ ᐊᒻᒪᓗ ᓱᒃᑲᔪᒃᑯᑦ ᐊᓯᙳᐃᓐᓇᖅᑐᖅ ᐊᐅᓚᑦᑎᓂᕐᒧᑦ ᐊᕙᑎᒥ. ᐊᑦᑕᕐᓇᖅᑕᐃᓕᒪᓂᕐᒧᑦ ᑖᒃᑯᓄᖓ ᑭᐅᔨᔨᓄᑦ ᐱᔨᑦᑎᕋᕐᓂᐊᖅᑐᑦ ᐱᔾᔪᑎᕋᐅᑎᓄᑦ ᓄᓇᕗᒻᒥᐅᓄᑦ ᐃᓅᓗᑎᒃ, ᐃᖏᕐᕋᓗᑎᒃ, ᐊᖑᓇᓱᓪᓗᑎᒃ, ᐊᒻᒪᓗ ᐱᓕᕆᓗᑎᒃ ᓄᓇᒥ, ᐃᑲᔪᖅᑐᑦ ᓄᓇᓕᒥᐅᑕᓄᑦ ᓱᖏᐅᑎᓂᕐᒧᑦ ᓯᓚᐅᑉ ᐊᓯᙳᖅᐸᓪᓕᐊᓂᖓᓄᑦ, ᐊᒻᒪᓗ ᑐᓂᓯᓗᑎᒃ ᐃᓄᓐᓄᑦ ᐊᒻᒪᓗ ᓄᓇᓕᒥᐅᑕᓄᑦ ᐋᓐᓂᐊᖅᑐᓕᕆᓂᕐᒧᑦ ᐊᒻᒪᓗ ᐃᓅᑦᑎᐊᕐᓂᕐᒧᑦ. ᒫᓐᓇᓵᖅ ᖃᐅᔨᓴᕐᓂᖅ, ᑭᓯᐊᓂ, ᐱᔾᔪᑎᖃᖅᑐᑦ ᐊᒥᓱᑦ ᑲᑎᙵᔪᑦ ᐊᒃᓱᕈᕐᓇᖅᑐᑦ ᓄᓇᓕᒥ ᑭᐅᔨᔨᑦ ᐱᔨᑦᑎᕋᖅᑐᑦ ᕿᓂᖅᑎᐅᓂᕐᒥᑦ ᓯᑯᒥ, ᐃᒪᒥ, ᐊᒻᒪᓗ ᓄᓇᒥᓗ ᓄᓇᕗᒻᒥ. ᒥᐊᓂᕆᔭᐅᔪᑦ ᐃᓄᓐᓄᑦ ᓯᕗᓪᓖᑦ ᑭᐅᔨᔨᑦ ᕿᓂᖅᑎᓕᕆᔨᒃᑯᓐᓄᑦ, ᒫᓐᓇ ᓄᓇᕗᑦ ᕿᓂᖅᑎᑦ ᒫᓐᓇᐅᔪᑦ (2022-2025) ᑐᕌᖅᑐᑦ ᐱᔾᔪᑎᒋᓂᐊᕐᓗᒋᑦ ᑖᒃᑯᓄᖓ ᐊᒃᓱᕈᕐᓇᖅᑐᓄᑦ ᓴᙱᓕᖅᑎᑦᑎᓗᒋᑦ ᕿᓂᖅᑎᑦ ᐸᕐᓇᒃᓯᒪᓂᕐᒧᑦ, ᓴᖅᑭᑎᑦᑎᑦᑕᐃᓕᓂᕐᒧᑦ, ᐊᒻᒪᓗ ᑭᐅᔾᔪᑎᓄᑦ ᓄᓇᓕᒥ. ᐱᓕᕆᐊᕆᓂᐊᕐᓗᒋᑦ, ᐱᓕᕆᖃᑎᒋᓂᐊᖅᑕᕗᑦ ᓄᓇᓕᒥᐅᑕᐃᑦ ᐊᒻᒪᓗ ᒐᕙᒪᑦ ᑭᐅᔨᔨᑦ ᕿᒥᕐᕈᐊᕐᓂᐊᕐᓗᒋᑦ:
·       ᕿᓂᖅᑎᑦ ᓴᙱᓕᖅᑎᓪᓗᒋᑦ ᐊᒻᒪᓗ ᐊᒃᓱᕈᕐᓇᖅᑐᑦ
·       ᕿᓂᖅᑎᑦ ᐱᐅᓂᖅᐹᒃᑯᑦ ᐊᑐᖅᑕᐅᔪᑦ ᐊᒻᒪᓗ ᐃᓕᓐᓂᐊᕈᑕᐅᔪᑦ
·       ᓯᕗᓂᒧᑦ ᐊᑐᐃᓐᓇᐅᔭᕆᐊᖃᖅᑐᑦ ᕿᓂᖅᑎᓄᑦ
·       ᐃᓱᒪᒃᓴᖅᓯᐅᕐᓂᖅ ᐊᒻᒪᓗ ᓄᑖᑦ ᐱᒋᐊᕈᑎᑦ
·       ᓴᓇᓪᓕᕆᕕᓐᓄᑦ ᐱᔭᐅᔭᕆᐊᖃᖅᑐᑦ
People
Principal investigators
Co-investigators and collaborators